---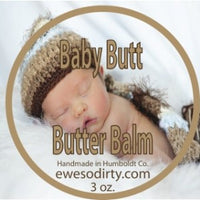 Baby Butt Butter Balm, Diaper salve!
Ewe So Dirty
Contains Calendula, Comfrey, and Chamomile, Acidophilus Powder (to eliminate acidic activity), beeswax, cornstarch, shea butter, coconut oil, hemp butter, rosemary and essential oils of lavender and pepermint.

Wonderful balm for your babies bum!  (and it's not half bad on moms skin too!)
This balm is 100% natural.
Quantity: Three ounce (3 oz)