---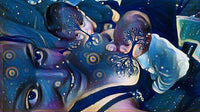 Custom Order BREAST MILK SOAP, 10 bars - 4 oz each
Ewe So Dirty
Your labor of Love can become the most beautiful soap, worth it's weight in Gold!
Breast Milk is an ideal ingredient because it contains essential proteins, amino acids, and vitamin A, which nourishes skin. Milk is also rich in lactic acid, which cleanses and softens.
All that is required is an 8 ounce package of YOUR breast milk!  I provide the skin loving butters and oils (Cocoa, Shea, Coconut and Extra Virgin Olive Oil) along with Lord Ellis Summit Spring water and Sodium Hydroxide...which is necessary to create soap...there is just NO getting around it!
You are Welcome to pick any scent from the following Essential Oils:
Peppermint, Lemongrass, Orange, Lemon, Lavender, Tea Tree, Bay, Eucalyptus, Sage, Clary Sage, Benzoin, Amber, Wintergreen, Grapefruit, Cedarwood, Patchouli or Clove!
I DO have fragrance oils that are free of:  Alcohol, Formaldehyde, Gluten , Non GMO,  Paraben , Phthalate , Soy and are Vegan friendly!  Just ask and I can let you know if I have your favorite available!
But remember, you may like it unscented!
You are required to ship (or deliver) to me, the 8 ounce of milk that has been frozen, and shipped with dry ice in order to ensure your supply will arrive safe!  Easy peasy!
Once I receive your Package of Love, I will create your personal stash of soapy goodness, allow it to cure for 6 weeks and have it delivered to your door promptly there after!  For best results, you will want to allow your personal soaps to 'cure' (rest in a cool, dry and airy space-like a pantry shelf...unwrapped) for as long as possible!  The longer it cures, the longer it will last!  It is available to use upon receipt, but really, let it cure for a while...you will be very happy with the results!
Feel free to contact me directly at jamie@ewesodirty.com for any other details or questions!