---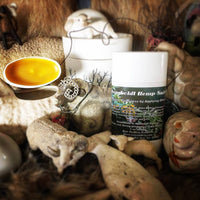 Humboldt Hemp Salve, 2 oz.
Ewe So Dirty
Wonderful and warm hemp salve full of the following:  Arnica, St. Johns Wort, Plantain, Lavender, Turmeric, Birch, Cayenne, Comfrey, Chickweed, Clove, Goldenseal, Camphor, Menthol and love...in a blend of Hemp oil, Shea Butter, Coconut Oil, Beeswax and Cocoa Butter.
Got some sore and achy places?  
Give it a try with an added bit of heat from a warmed rice pillow or heat pad!
***This salve is susceptible to heat and WILL melt in very warm climates!  Be aware that shipping to these areas may cause significant melt!