---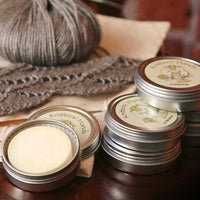 Knitters Hands Lotion Bar
Ewe So Dirty
For tired Knitters Hands!
This delicious bar contains Cocoa and Shea Butters, EcoSoya Wax and a bit of local Honey!
This is a solid 1.5 oz bar or 'puck' that pops out of a cute little tin that can be carried in your favorite knitting bag or just keep it in your purse!  Helps aid in taming those sticky bits that reside on rough hands!  Especially perfect for use when knitting with silks!