---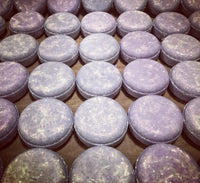 Lavender Vanilla Shampoo Bar, 42gm
Ewe So Dirty
Just like a regular shampoo, but without the water!  
Rub a bit across your hair, lather and rinse!  It's delightful!  Full of hair loving surfactants and foaming agents created from coconut.  A neutral shampoo bar that works well for many types of hair!
Great to pair with our solid Lavender Vanilla Conditioner Bars!
Ingredients:  sodium cocoyl isthionate powder, sodium cocoyl isthionate noodles, Sodium Lauryl Sulfoacetate ,  Cetearyl Alcohol,  BTMS 50, Shea Butter, Vanilla Extract and Lavender Essential Oil, Panthenol, Stearic Acid, Coco Betaine.
Packaged in a wee muslin bag!