---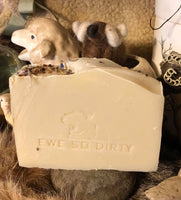 HONEY SOAP
Ewe So Dirty
Made with local honey from my neighbor, this is a sweet scented delicious soap!
Our soaps are hand made in small batches using the cold process method that includes Cocoa Butter, Olive Oil, Coconut Oil, Castor Oil, Tallow and Silk Protein (by way of Silk Cocoons!).

Our soaps are never drying, but luxurious and wonderfully gentle. We collect Lore Ellis Summit Spring Water for use in the creation of each bar. No filtered or distilled waters are used in the production. Natural and perfect for all skin types. All of our soaps are cured for a minimum of 4 to 6 weeks, and are super fated, which means they contain even MORE high quality butters and oils than the usual bar of soap! In addition, we use only the highest quality cosmetic grade oils, butters and essential oils and fragrances.

Many of our soaps contain wild crafted and gathered herbs and florals collected here in the Great wilderness of Northern California, surrounded by Redwoods and fresh Pacific ocean breezes. All soaps are creatively labeled and shipped to you, ready for gift giving or just as a special gift to yourself!
Quantity: 4 ounce approximately