---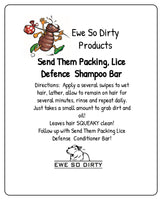 Lice Defense Tea Tree and Eucalyptus Shampoo Bar, 42gm
Ewe So Dirty
Such a great weapon against the dreaded school born bug!  Lice HATE Tea Tree and Eucalyptus oils!  Being a mother of two daughters that had very long hair,  living in a cold climate where hats and furry coats were often worn and hung on hooks with all their classmates garments was a recipe for disaster.  And so, I  learned the hard way how to protect my children!  Once we began using this tool, we never had to worry again!
Just like a regular shampoo, but less waste!
Rub a bit across your hair, lather and rinse!  It's delightful!  Full of hair loving surfactants and foaming agents created from coconut.  A neutral shampoo bar that works well for many types of hair!
Great to pair with our solid Lice Defence Conditioner Bars!
Ingredients:  sodium cocoyl isthionate powder, sodium cocoyl isthionate noodles, Sodium Lauryl Sulfoacetate ,  Cetearyl Alcohol,  BTMS 50, Shea Butter, Tea Tree & Eucalyptus Essential Oil, Panthenol, Stearic Acid, Coco Betaine.
Packaged in a wee muslin bag!