---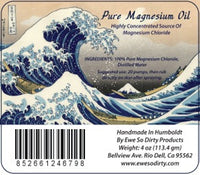 Magnesium Oil, 4oz.
Ewe So Dirty
Pure Magnesium Oil is an amazing topical magnesium supplement!
We are all low in the Magnesium department, so why not apply it to your parched hide?  It is your largest organ!
Just 20 sprays per day.  Read up on the benefits!!!
I usually apply mostly to the leg area and then one or two pumps under the pits too!  Rub in to your skin and throw on your clothes!  I normally apply after my morning shower but at night time works too, just before bed!
It is called an oil, but it is really just a water based product.  No scent at all, feels a bit oily because of the mineral!  May sting on application once in a while and that is completely normal!  I equate it to shaving my legs and going for a swim in the ocean.